Services or Geoservices can be available for: Visualization (WMS and WMTS), Download (WFS) and Catalog (CSW). These services are based on standards defined by the Open Geospatial Consortium (OGC).
Support directory
Addresses of web services (OGC) available in the IDERD. To add services to the list and to report changes send a message to
Webmap services (WMS)
Web Map Tile Service (WMTS)
Web Map Tile Service (WMTS)
Webmap services (WMS)
Strategic Development Plan for the Province of Espaillat (PEDEPE)
IDERD - Webmap services (WMS)
National Cartographic System (10)
Copernicus Land Monitoring Service Copernicus Land Monitoring Service
IDERD - Webmap services (WMS)
National Cartographic System (10)
Web Map Service (WMS)
Web Map Service (WMS) standard or Visualization Service: produces maps of dynamically referred spatial data from geographic information. This international standard defines a "map" as a representation of geographic information in the form of a digital image file suitable for display on a computer screen. The maps produced by WMS are normally generated in an image format such as PNG, GIF or JPEG, therefore, this digital image does not consist of the data itself, but rather an image of it.
WMS specifies a number of different request types, two of which are required by any WMS server:
GetCapabilities
Returns parameters about the WMS (such as map image format and WMS version compatibility) and the available layers (map bounding box, coordinate reference systems, URI of the data and whether the layer is mostly opaque or not)
GetMap
Returns a map image. Parameters include: width and height of the map, coordinate reference system, rendering style, image format
GetFeatureInfo
If a layer is marked as 'queryable' then you can request data about a coordinate of the map image.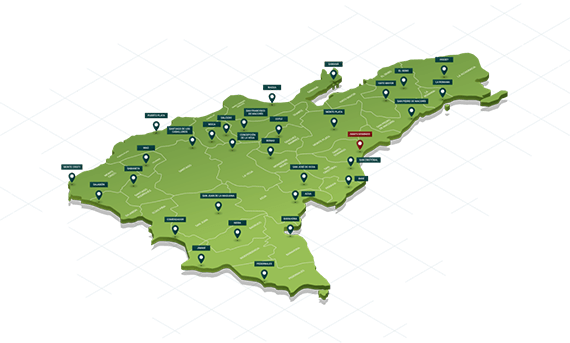 Web Map Tile Service (WMTS)
Web Map Tile Service (WMTS) standard or Tile Visualization Service: serves digital maps using predefined image tiles. This service allows you to store recently read data, therefore, speed up the loading of the same in case these are requested again (cache). This service uses a parameterized Tiling Model in such a way that a client can make requests for a discrete set of values ​​and quickly receive fragments of pre-rendered images (i.e., tiles) from the server, which generally no longer require any further manipulation to be displayed on the screen. The tiles are configured at certain scales, which makes the WMTS service faster to respond. This standard is used to serve orthophotos to users. The tiles are generated at certain scales, which makes the WMTS service faster to respond.
Web Feature Service (WFS)
Web Feature Service (WFS) standard or Download Service: offers direct and detailed access to geographic information at feature/feature property level. This standard defines how services to access vector data should be implemented, allowing disclosure and consultation of all the attributes of a geographic phenomenon (example: a river, a road, a lake, etc.).
This International Standard defines eleven (11) operations:
GetCapabilities Discovery Operation
DescribeFeatureType Discovery Operation
GetPropertyValue (query operation)
GetFeature query operation
GetFeatureWithLock (query and lock operation)
LockFeature (lock operation)
Transaction (transaction operation)
CreateStoredQuery (stored query operation)
DropStoredQuery (stored query operation)
ListStoredQueries (stored query operation)
DescribeStoredQueries (Stored Query Operation)
Catalogue Service for the Web (CSW)
The Catalog Service for the Web (CSW) standard or Catalog Web Service: allows the publication and search of the description (metadata) of data and web services, through a standard interoperable communication protocol that transmits requests between the client and the server, returning as a response type the metadata record (s) of the data set or service searched in the catalog. This type of service is essential for a Spatial Data Infrastructure.
The standard defines these basic operations:
GetCapabilities
Allows CSW clients to retrieve service metadata from a server.
GetRecordsBy
Retrieves the default representation of catalogue records using their identifier.
DescribeRecord
Allows a client to discover elements of the information model supported by the target catalogue service. The operation allows some or all of the information model to be described.
GetDomain
Used to obtain runtime information about the range of values of a metadata record element or request parameter.
GetRecords
Search for records, returning record IDs.